Company Educations through Visuals
BY TOM EBLEN
Herald-Leader columnist March 11, 2013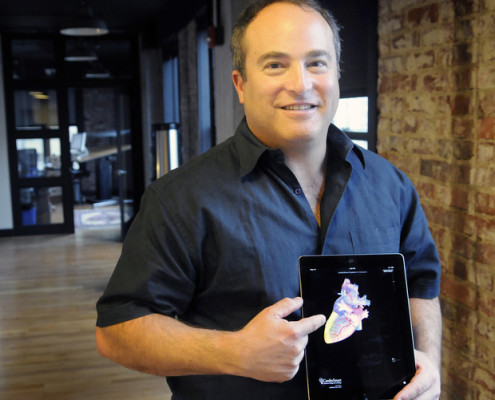 Read the original article here: http://www.kentucky.com/2013/03/11/2551951/tom-eblen-company-turns-medical.html#storylink=cpy
Richard Gersony was a pre-med student at Columbia University in New York City when he started drawing illustrations for the campus newspaper. Soon he faced a dilemma: which career path to choose?
"I was going toward medicine," he said. "But I knew inside that what I was best at was making visuals, illustrating and creating art."
Then a professor suggested he become a medical illustrator. After an internship and rigorous graduate program at the University of Michigan, Gersony moved to Lexington for a medical illustration job at the University of Kentucky. There he met his wife, Kim, who studied three- dimensional animation and interactive design.
After eight years of training and work in Chicago and Baltimore, they returned to Lexington in 2000 and started Medmovie to take medical illustration into the digital world of online multimedia.
This past weekend in San Francisco, at the annual meeting of the American College of Cardiology, Medmovie unveiled its newest product: an iPad application that explains how the heart works, its common problems and treatments.
CardioSmart Explorer will sell for $5.99 to the public through Apple's online App Store. The American College of Cardiology, which sponsored development of the app, will give it to physician members.
This is the company's third iPad app but the first sold to the public. Gersony said it represents an important step toward what he sees as the future of his company: developing educational tools that use the ever-growing library of cardiovascular multimedia imagery he and his staff are developing.
The Gersonys and their three employees all have master's degrees and other advanced training in science, medical illustration and animation. Their job is to take complex medical information and translate it into simple, understandable visual stories.
"The idea is you are making a visual decision between highly realistic and symbolic, then you are putting it in a storyline that's understandable," Richard Gersony said. "We want people to have that visual aha moment: 'Wow! Now I understand.'"
There are many markets for such stories: educating and making sales to physicians and other health care professionals; explaining complex medical information to juries; and helping patients and their families understand medical problems, procedures and treatments.
For example, a physician could use an iPad with the CardioSmart Explorer app to sketch out a heart patient's problem and explain how it will be treated. Then the illustration can be instantly emailed to the patient for future reference.
Medmovie's newest staff member is Pina Kingman, who moved here from Vancouver, British Columbia, after graduating from the University of Toronto's prestigious biomedical communications program. Her background in cell biology and animation will help Medmovie develop animations to show how drugs work in the body. They could be used to create educational tools for pharmaceutical salespeople, physicians and patients.
Gersony, who grew up in the New York City suburbs, said he and his wife did a national search when deciding where to start Medmovie. Lexington had an edge, because they had met here and Kim Gersony's mother lived in Frankfort.
In the end, though, they chose Lexington for a variety of reasons that have also attracted other small, high-tech startups: a good talent pool; a central location with decent airline service; attractive and reasonably priced downtown office space; local universities; and a good quality of life.
Medmovie's offices were in the circa 1913 Fayette National Bank Building at Main and Market streets until recently, when the company had to relocate so Lexington's first skyscraper can be converted into a 21c Museum Hotel.
Gersony was able to find even nicer quarters around the corner: a loft-like space in another former bank, a circa 1924 building at the corner of West Short and Market streets. The offices have big windows with a commanding view of the old Fayette County Courthouse square.
Gersony said Lexington's low cost of living, vibrant arts community and planned improvements downtown such as Town Branch Commons will make it easier for Medmovie to attract top talent as the company grows.
"Lexington is a fantastic size for a company like ours," he said. "Almost all of us here can ride our bikes to work. The kind of space and the costs here are way, way lower than San Francisco and New York."
Tom Eblen: (859) 231-1415. Email: teblen@herald-leader.com. Twitter: @tomeblen. Blog: tomeblen.bloginky.com.
Read more here: http://www.kentucky.com/2013/03/11/2551951/tom-eblen-company-turns-medical.html#storylink=cpy