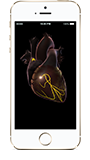 Powerful visuals
for health and medicine.
Custom media created to target your intended audience.
Medmovie translates complex medical and life science information into accurate, easy-to-understand, strategically focused visual media. Our clients leverage our experience, validated animations, and interactive media to create cost-effective innovative tools to help tell their stories.
Featured Medical Animation
Cardiovascular Video Library (CVL)
Medmovie offers a low cost way to provide HD videos of key conditions, tests, and treatments to increase patient understanding and satisfaction.
Selected topics used by: